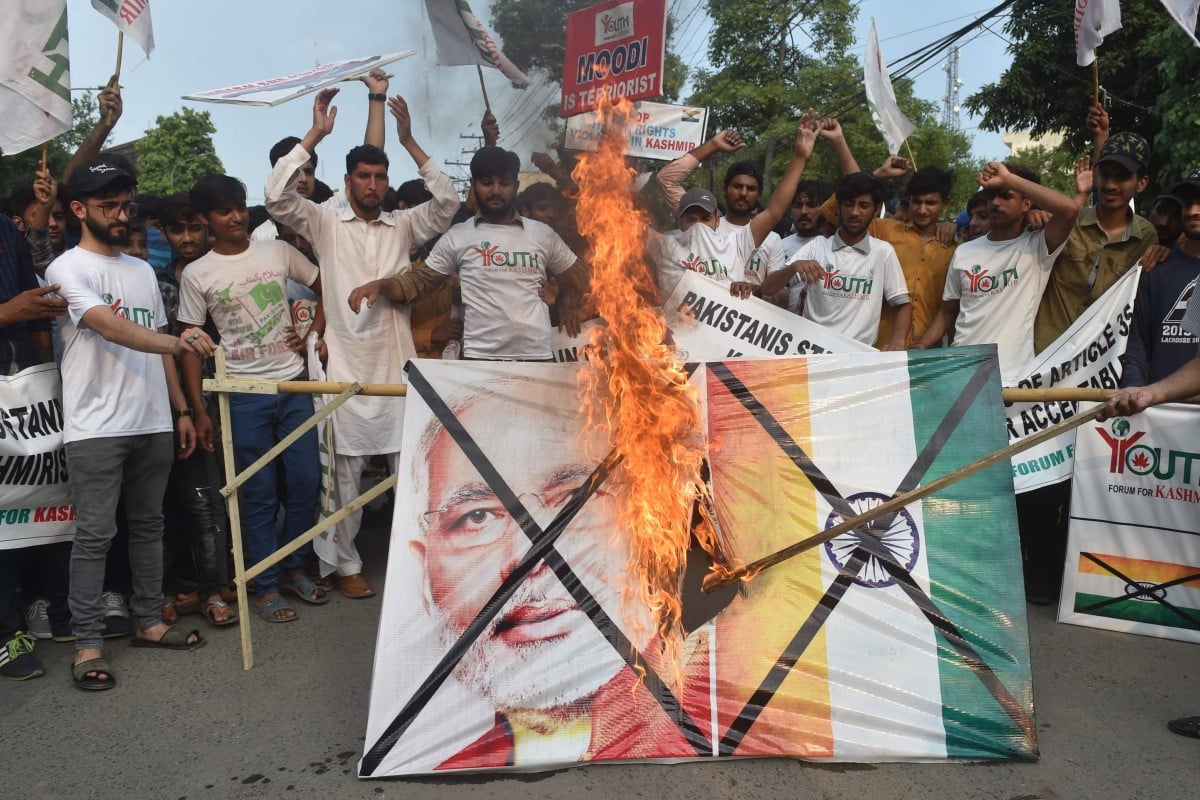 Kashmir
and
Palestine
are the two most important Flash Points which if not resolved according to
United Nations Resolutions
, the world peace, can not be achieved due to persistent oppression of millions of innocent people. Recent Indian moves to annex Indian held Kashmir unilaterally against wishes of people, constitution and UN resolutions, being a disputed territory to be resolved between Pakistan and India, has got closer to nuclear flash point again!
Abstract :
The international community cannot afford India's displeasure, India's economy is a bigger economy than Pakistan's (6th in the world, fastest growing , ahead of China). One thing is certain that the international community will never offend India and will not openly support Pakistan. This is the same Modi, whom the United States and Europe called an unwanted figure and was not issued a visa by USA while Modi was CM of Gujrat, but with his becoming Prime Minister, all his sins were washed away.
The world accord priority to its own interests, justice and truth are just bookish m media slogans.. Since Pakistan and India are nuclear powers, the interest of the global community including the United States is just that Pakistan and India should not go to war. Pak-India war will not remain conventional war, it will quickly turn into a nuclear war, the world just wants to save themselves from the effects of nuclear war. Therefore, the interest of the world at this time is only in reducing India-Pak tension. They are not interested in resolution of Kashmir issue. It is the same thing that the fire brigade is used to extinguish fire but not paying attention to the cause of the fire.
The world has not supported Pakistan and Kashmiris as usual, we have been left alone [even the Arabs and Muslim counties are silent]. If the interests of the world would have been threatened, then the problem of Palestine and Kashmir would have been resolved.
Pakistan needs to take advantage of the nuclear war threat, only the fear and weakness of the world to the nuclear war will force them to find the peaceful resolution of Kashmir issue, otherwise it can never be solved by mere protests and resolutions.

Make the world aware of the racist agenda of Modi, RSS and BJP their neo Nazi Hindu Hitler, anti Muslim ideology.

Full support of the struggle of Kashmiris including military support in training and logistic is essential. Kashmir struggle should be declared as a struggle from oppression , freedom, restoration of human rights and freedom .

Nation and youth should be ideologically and physically prepared for Jihad. Training under Pak Army should be immediately organized.

Support Sikhs in Khalistan movement.

Pakistan will have to strengthen itself economically, so that instead of crying and complaining all the time, the world will be forced to listen to a strong prosperous Pakistan and India will also sit on the negotiating table on equal terms, but this may be a long term practical strategy, however the first step has to be taken now.