WebpageTranslator
Havoc in Norway and Theology of Hatred: http://t.co/iNK0wX5
Christian terrorism comprises terrorist acts by groups or individuals who claim Christian motivations or goals for their actions. As with other forms of religious terrorism, Christian terrorists have relied on idiosyncratic or literalistic interpretations of the tenets of faith—in this case, the Bible. Such groups have used Old Testament and New Testament scriptures to justify violence or to seek to bring about the "end times" described in the New Testament, while others have hoped to bring about a Christian theocracy[Wikipedia:
http://en.wikipedia.org/wiki/Christian_terrorism
]
Read Violence and Atrocities in Bible:
http://t.co/XJusYKb
The Bible contains far more verses praising or urging bloodshed than does the Koran, and biblical violence is often far more extreme, and marked by more indiscriminate savagery. Samson the Suicide Bomber Glorified in the '
The Suicide Bomber Prophet

.
It is recorded in the most sacred Jewish holy book, the Hebrew Bible (the Old Testament of Christianity), that God Himself commanded Joshua to finish the genocide of the natives living on the other side of the Jordan River: Read 'T
he Most Violent Prophet in History
'.
Christian Identity is a loosely affiliated global group of churches and individuals devoted to a racialized theology that asserts that North European whites are the direct descendants of the lost tribes of Israel, God's chosen people. It has been associated with groups such as the Aryan Nations, Aryan Republican Army, Army of God, Phineas Priesthood, and The Covenant, The Sword, and the Arm of the Lord. It has been cited as an influence in a number of terrorist attacks around the world, including the 2002 Soweto bombings.
Breivik wrote that it was essential to "fight" for a "Judeo-Christian Europe", praised the rejection of "anti-Jewish views" and stated that "the new Conservatist 'new right' is rapidly developing into a pro-Israel, anti-Jihad alliance." He applauds Israel, and considers Israel to be a victim of alleged "cultural Marxists" who "see Israel as a 'racist' state."". Hours before the shootings occurred, Breivik released a video detailing that many Christian groups desired a violent staged revolution in Europe to kill the "cultural Marxists" who were, as he saw it, working to weaken Christendom and the "cultural purity" of Norway. He advocated an organization called the "Poor Fellow Soldiers of Christ and the Temple of Solomon." His video urged Christian Europeans to be "justiciar knights," and rely on the virtues of the crusaders and other Christians in Europe who had battled Muslims in the name of Christianity.
~~~~~~~~~~~~~~~~~~~~~~~~~~~
Norway attacks: Norway's tragedy must shake Europe into acting on extremism
I share the fear and pain of my country – but in Norway this kind of insane act has always had its origins in the far right: [Aslak Sira Myhre, guardian.co.uk]
Like every other citizen of Oslo, I have walked in the streets and buildings that have been blown away. I have even spent time on the island where young political activists were massacred. I share the fear and pain of my country. But the question is always why, and this violence was not blind.
The terror of Norway has not come from Islamic extremists. Nor has it come from the far left, even though both these groups have been accused time after time of being the inner threat to our "way of living". Up to and including the terrifying hours in the afternoon of 22 July, the little terror my country has experienced has come from the far right.
Norwegian prime minister Jens Stoltenberg embraces a
survivor of the Utoeya island shooting-picture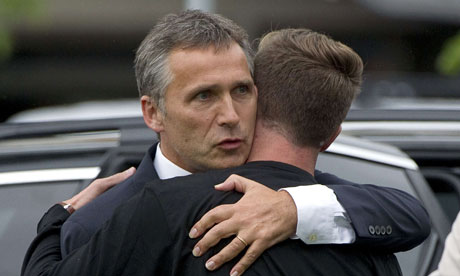 For decades, political violence in this country has been almost the sole preserve of neo-Nazis and other racist groups. During the 1970s they bombed leftwing bookstores and a May Day demonstration. In the 80s two neo-Nazis were executed because they were suspected of betraying the group. In the past two decades, two non-white Norwegian boys have been died as a result of racist attacks. No foreign group has killed or hurt people on Norwegian territory since the second world war, except for the Israeli security force Mossad, which targeted and killed an innocent man by mistake on Lillehammer in 1973.But even with this history, when this devastating terror hit us, we instantly suspected the Islamic world. It was the jihadis. It had to be. It was immediately denounced as an attack on Norway, on our way of life. In the streets of Oslo, young women wearing hijabs and Arab-looking men were harassed as soon as the news broke.
Small wonder. For at least 10 years we have been told that terror comes from the east. That an Arab is suspicious, that all Muslims are tainted. We regularly see people of colour being examined in private rooms in airport security; we have endless debates on the limits of "our" tolerance. As the Islamic world has become the Other, we have begun to think of that what differentiates "us" from "them" is the ability to slaughter civilians in cold blood.
There is, of course, another reason why everybody looked for al-Qaida. Norway has been part of the war in Afghanistan for 10 years, we took part in the Iraq war for some time, and we are eager bombers of Tripoli. There is a limit to how long you can partake in war before war reaches you.
But although we all knew it, the war was rarely mentioned when the terrorist hit us. Our first response was rooted in irrationality: it had to be "them". I felt it myself. I feared that the war we took abroad had come to Norway. And what then? What would happen to our society? To tolerance, public debate, and most of all, to our settled immigrants and their Norwegian-born children?
It was not thus. Once again, the heart of darkness lies buried deep within ourselves. The terrorist was a white Nordic male; not a Muslim, but a Muslim hater.
As soon as this was established, the slaughter was discussed as the deed of a mad man; it was no longer seen as primarily an attack on our society. The rhetoric changed, the headlines of the newspapers shifted their focus. Nobody talks about war anymore. When "terrorist" is used, it is most certainly singular, not plural – a particular individual rather than an undefined group which is easily generalised to include sympathisers and anyone else you fancy. The terrible act is now officially a national tragedy. The question is, would it have been thus if the killer was a mad man with an Islamic background?
I also believe that the killer was mad. To hunt down and execute teenagers on an island for an hour, you surely must have taken leave of your senses. But just as 9/11 or the bombing of the subway in London, this is madness with both a clinical and a political cause.
Anyone who has glanced at the web pages of racist groups or followed the online debates of Norwegian newspapers will have seen the rage with which Islamophobia is being spread; the poisonous hatred with which anonymous writers sting anti-racist liberals and the left is only too visible. The 22 July terrorist has participated in many such debates. He has been an active member of one of the biggest Norwegian political parties, the populist right party until 2006. He left them and sought his ideology instead among the community of anti-Islamist groups on the internet.
When the world believed this to be an act of international Islamist terrorism, state leaders, from Obama to Cameron, all stated that they would stand by Norway in our struggle. Which struggle will that be now? All western leaders have the same problem within their own borders. Will they now wage war on homegrown rightwing extremism? On Islamophobia and racism?
Some hours after the bomb blast, the Norwegian prime minister, Jens Stoltenberg, said that our answer to the attack should be more democracy and more openness. Compared to Bush's response to the attacks of 9/11 there is good reason to be proud of this. But in the aftermath of the most dreadful experience in Norway since the second world war I would like to go further. We need to use this incident to strike a blow to the intolerance, racism and hatred that is growing, not just in Norway, nor even only in Scandinavia, but throughout Europe.
By: Aslak Sira Myhre, Guardian.co.uk,
The man arrested following the attacks in Norway, Anders Behring Breivik, describes himself as a "nationalist", according to the police.
In the purest sense of the word, he is not alone. On this day of grief, Norwegian people have united under their flag, vowing to stand firm against terror.
But the suspect, it seems, is no pure nationalist. Instead, he is said to be a right-wing extremist of the kind that police authorities in the West have feared for some time.
Their fear has been heightened by the potentially explosive mix of economic recession and unemployment, increasing racism and an ever stronger anti-Muslim sentiment, according to the Norwegian newspaper Aftenposten.
Norway's security police reported a mild increase in right-wing extremist activity last year and predicted that such activity would continue to increase throughout this year.
But it also suggested that the movement was weak, lacked a central leader and offered relatively modest growth potential.
Though members of the Norwegian far-right movement have carried out attacks in the past, it has historically been a small community, according to neo-Nazi watchers.
The late Stieg Larsson, the Swedish crime writer famous for his Millennium trilogy, was one such expert.
In the mid-1990s, he founded the anti-racist, anti-extremist publication Expo following a sharp rise in violence carried out by neo-Nazis.
In an interview in connection with a documentary I was making at the time, he told me that Sweden was the world's largest producer of so-called White Power Music and other racist propaganda, with an active, fast-growing and violent neo-Nazi movement.
By contrast, the Norwegian neo-Nazis were disorganised and chaotic, he said, citing an example of a large far-right gathering in Sweden attended by a small group of Norwegians.
The Swedes were articulate, organised and smartly dressed, he recalled, whereas the Norwegians, who had arrived by coach, had been drinking all the way during their journey across the border and were thus largely incoherent and shabby in appearance.
Since then, it seems Norwegian far-right extremists have created stronger links with criminal communities, as well as with similar groups abroad, in Europe, Russia and the US.
Sweden, by contrast, has seen a sharp drop in far-right extremist activity since its peak in the mid-1990s, when every national newspaper in the country published identical editions with photos of every known neo-Nazi in the land.
But at the same time, aspects of the far-right agenda have risen to greater prominence on the mainstream political arena, with Expo reporting how the revulsion displayed by the Swedish people during the 1990s is increasingly turning towards a curiosity about toned-down far-right rhetoric.
Similar sentiments have been felt in Norway, where politicians have openly been voicing concerns about how the country's culture might be diluted by immigration from countries with different religions and values.
Following the attacks in Oslo and on Utoeya, it will be interesting to see whether many in the country develop a more sophisticated view of where the greatest threats are coming from, amid a growing realisation that extremism is deadly regardless of nationality, ethnicity or religion.
[Analysis ny:
By Jorn Madslien
BBC News
]