The Indian Cabinet Committee on Security (CCS) just approved in principle a specialised Mountain Strike Corps aimed at increasing military strength along the China frontier. The committee headed by the Prime Minister is the highest decision making body on security matters.
The Finance Ministry had earlier given its approval for raising the corps. The expense of Rs 64,000 crore will now be spread across seven years and not five as planned originally, sources said.
The Mountain Strike Corps - a first of its kind for the Indian forces - will have around 50,000 soldiers. Two special divisions will be backed by an airlift ability to deploy fully armed troops at short notice.
US-made transport aircraft - the C-130-J Super Hercules - and twin-rotor heavy lift helicopter - the Chinook -will be part of the corps.
The IAF and the Army are readying seven advanced landing grounds in Arunachal Pradesh for quick deployment of troops, besides a host of helipads.
The corps will be armed with specialised artillery guns - the ultra-light Howitzer - that can be lifted by the Chinook helicopter for deployment on mountain tops, besides night fighting ability and specialised vehicles.
Attack helicopters and fighter jets such as the Su-30MKI, already based in the North-East, will be incorporated into the corps. The IAF has created a "swing fleet" to allow rapid movement of fighters from one part of the country to another.
The corps is aimed at countering threats from China, which has put in place a rapid deployment capability based on mechanised vehicles and aircraft and railway tracks allowing quick movement across the flat Tibetan plateau on its side.
Army Chief General Bikram Singh has been pushing for the Mountain Strike Corps since the start of his tenure in June last year. This is a part of the Army's new policy of tackling threats from Pakistan and China. The three strike corps currently based at Ambala, Mathura and Bhopal are oriented towards Pakistan.
The Mountain Strike Corps is the biggest force accretion plan for the Army in the past two decades. The Army last raised a new corps - the Leh-based 14 corps - soon after the Kargil war in 1999.

Countering China

* The corps, a first of its kind for Indian forces, aims at countering threat from China

* Three strike corps currently based at Ambala, Mathura and Bhopal are oriented towards Pakistan

* The new corps will have around 50,000 soldiers, specialised C-130-J Super Hercules aircraft and Chinook helicopters

* The IAF and the Army are readying seven advanced landing grounds in Arunachal Pradesh for quick deployment of troops
By Ajay Banerjee/Indian Tribune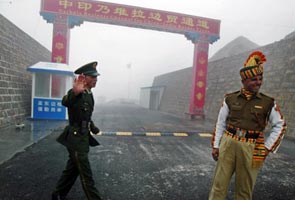 China reacts to India's new strike corps
China has reacted cautiously to India's proposal for the establishment of mountain strike corps along the Sino-Indian border.

"The Chinese and Indian governments have signed several agreements on safeguarding peace and tranquillity in the border areas and on taking trust-building measures in the field of military," Chinese Foreign Ministry, said in written response to a query from PTI on China's reaction to the Indian move.

"The overall situation in the border areas between the two countries is peaceful and stable. The Chinese side is ready to work with the Indian side to maintain peace and tranquillity on the border areas", the brief response said, without making any direct reference to the Indian government's clearance to form the division.
Boosting the Indian Army's war fighting capabilities along the Line of Actual Control, government on Wednesday gave the go-ahead for the creation of a corps including deployment of 50,000 additional troops along the China border at a cost of around Rs. 65,000 crore.

The move to form the Mountain Corps has not figured in the official media so far.

The approval for the formation of the new corps comes as the two countries held advanced negotiations on the Border Defence Cooperation Agreement (BDCA) which figured prominently
in Defence Minister A K Antony's visit here earlier this month.

It was also discussed during National Security Advisor Shivshankar Menon's visit on June 28 when he held the 16th round of talks to resolve the border issue with his counterpart Yang Jiechi.

Indian officials in Beijing earlier refuted perception that the BDCA which was proposed by China was aimed at containing the development of infrastructure on the Indian side of the border or freezing the troop levels.
This is most likely to used against Pakistan than China, see Cold Start Doctrine
By: Col Anil Athale
|
India has been victim of proxy war since 1999. First in Kargil in May 1999 when regular Pakistani soldiers in garb of 'Kashmir Freedom Fighters' infiltrated and seized dominating heights... ...
More
Chinese Goal: India's isolation and encirclement
By: Maj Gen Sheru Thapliyal
Recorded history shows that India and China have loomed large in each other's consciousness from well before the first millennium. As both nations became independent almost at the same time, it...
More
Related: