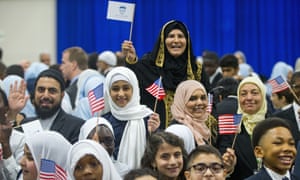 If you're a Muslim living in America, we want to know what you think of Obama's comments, what it's like living in the US, and what you think of the presidential candidates' views of
Islam
.
The president addressed
thousands of attendees at the Islamic Society of Baltimore
on Wednesday, and said many Americans do not know a Muslim person and form a "hugely distorted impression" based on TV, film and negative news reports. Since 9/11, Paris and San Bernardino attacks, he continued, "You've seen too often people conflating the horrific acts of terrorism with the beliefs of an entire faith.
"And of course recently we've heard inexcusable political rhetoric against Muslim Americans that has no place in our country. No surprise, then, that threats and harassment of Muslim Americans have surged."
"Oh, you know, basically implying that America is discriminating against Muslims. Of course there's discrimination in America, of every kind. But the bigger issue is: radical Islam. And by the way, radical Islam poses a threat to Muslims themselves."
>>>>>>

Humanity,

Religion

,

Culture

,

Science

,

Peace

Related:
~ ~ ~ ~ ~ ~ ~ ~ ~ ~ ~ ~ ~ ~ ~ ~ ~ ~ ~ ~ ~